Login or create an account to earn Loyalty Points for sharing!
Earn Loyalty Points for sharing!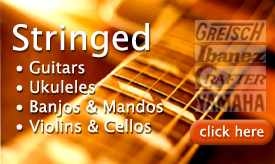 Featured Gear
If you're looking for an acoustic, electric or classical guitar, amplifier, ukulele, keyboard, digital piano or electronic drum kit, then Westmount Music in Marlow, Buckinghamshire is the place to go. We stock a wide range of instruments, accessories and learning media, representing top brands such as Yamaha, Roland, Boss, Korg, Casio, Vox, Crafter, Takamine, Focusrite and Gretsch.
As well as our range of instruments to cater for all abilities, we also offer tutoring services including guitar, keyboard / piano, drum, violin, cello, flute, clarinet, saxophone and recorder lessons, in store and via our custom built tutoring studio based on the Westhorpe Estate, in Marlow. Please check out our Tutoring Services page for more.
If you are wanting to try out an instrument before you buy, we also offer a flexible, affordable Instrument Rental Program starting from as little as £9.99 a month and a PA Hire service from only £25 a day. Alternatively, we are now pleased to offer 0% Interest Free Credit (as well as other low interest credit) on any purchases over £150… please click here for more information.
We also offer a full repair service on a range of instruments, including set-ups, servicing and repairs on guitar, brass, woodwind, cello and violin.
Join our free Clubcard and receive 5% loyalty reward points on every purchase which can be redeemed in store or on our website. If you are associated with one of our local schools, you can also nominate them to receive the same points that you earn, to help your school's music department.
Westmount Music is based in Marlow Bottom, on the outskirts of Marlow. We are located just minutes away from the M4 and M40 High Wycombe, Buckinghamshire, with easy access from London, Oxford, Reading, Maidenhead, Windsor, Slough and Beaconsfield. We are also not far from towns like Watford, Amersham, Bracknell, Chesham, Newbury and Hemel Hempstead in the Berkshire, Middlesex and Hertfordshire area .